About our Family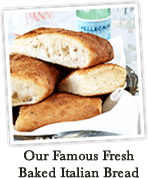 Everyday for over fifty years the Rugiero family has worked hard preparing fresh, authentic Italian dishes. These include delicious sauces, soups and stuffed pastas. The hard work has paid off with award winning pizzas, calzones, and of course, our famous fresh baked bread.
Keeping with Tradition
Everything is made the old fashion way "Fata in Casa" (in house). Enjoy Antonio's famous signature dishes like Gnocchi Rita served with Mama Rita's special pancetta and mushroom sauce... Spaghetti Carbonara "Alla Bocelli", a recipe Andrea Bocelli prepared himself in our own kitchen. Try our Chicken Antonio, pan prepared tender breast of chicken smothered in a creamy white sauce topped with provolone cheese. And all our pastas are prepared fresh daily in our pasta factory, located in our dining room.
Updates & Promotions
Learn about what is happening in the Antonio's family of Restaurants - Check out upcoming events and promotions.